I run a business on the side that does corporate video/advertising/training media. In order to keep clients happy and the business current I'm always on the lookout for new ways of doing things. New ways that are better, stronger, faster and more efficient than what we've done in the past. Efficiency ultimately translates into cost savings and cost savings keep clients happy.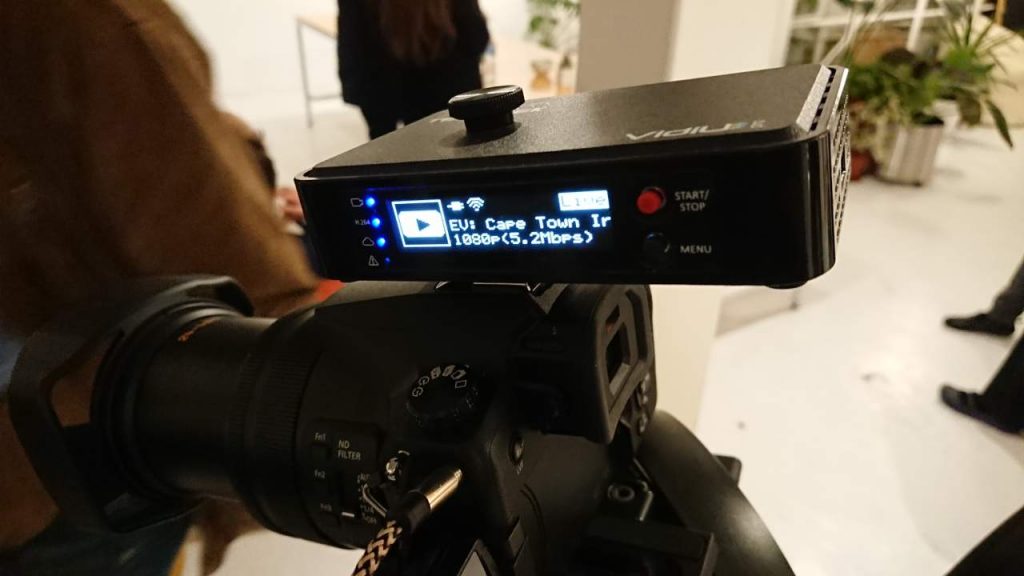 Live streaming content has become a hot topic service in the last few years but despite the passage of time not much has changed changed on the tech-side.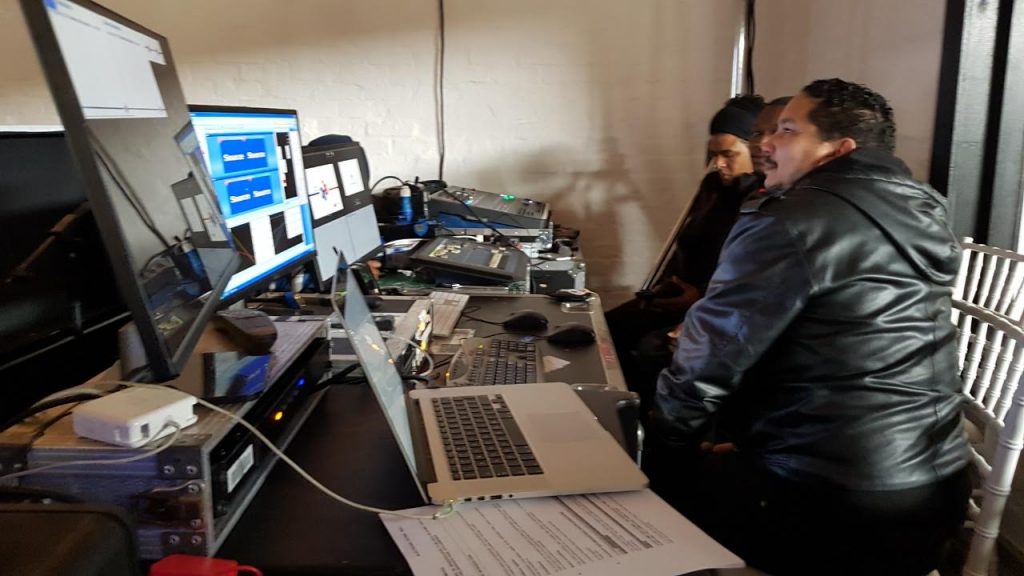 We normally achieve live streaming in one of two main ways; but they both start with big heavy cameras, expensive coaxial cables, a big bulky video mixer, some LCD monitors, loads of converters, frame rate and resolution "scalers" and then an output step. The output step involves either a dedicated video streaming device, like the Teradek Vidiu or a laptop running a USB3 capture card and the amazing OBS. Systems that run on 30p (NTSC) frame rates tends to *just work* but we operate in a PAL country (South Africa) and this greatly complicates things as most IT equipment is NTSC native.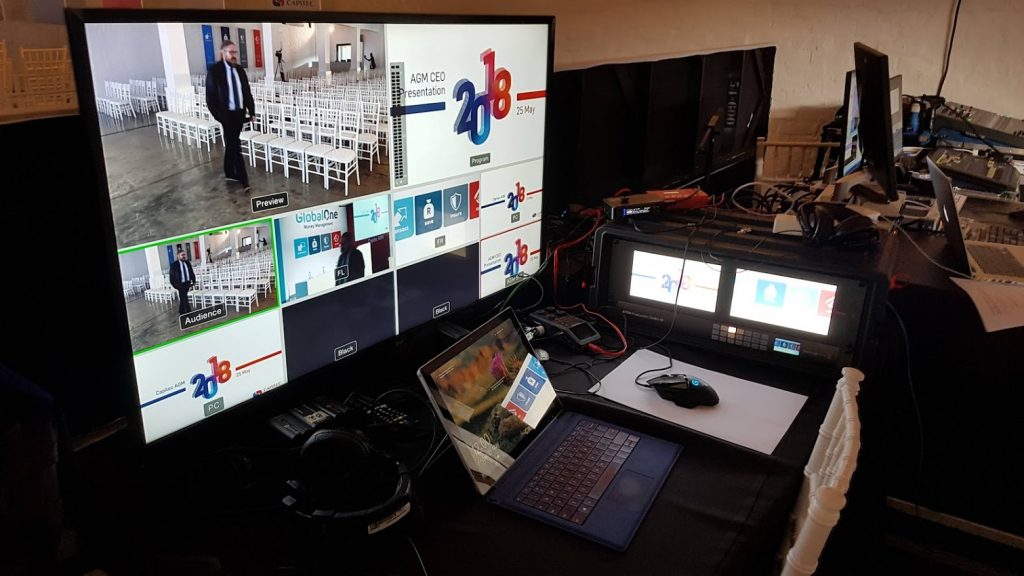 These setups are unfortunately huge and by extension very expensive (as they require a lot of expensive equipment, space, cabling, setup time, crew, etc).
A client recently started asking about ways in which they could do smaller, "lighter-weight" multi-camera streams for the purposes of internal marketing and staff training. One of this client's staff members had found an advert for a system, called the "SlingStudio".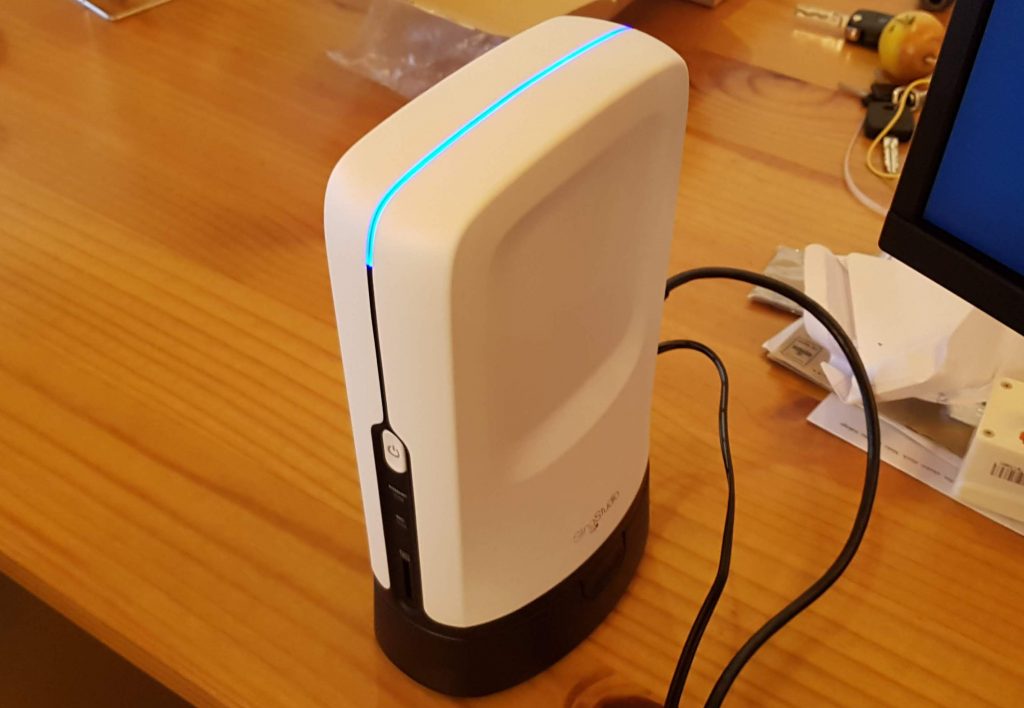 Now, "SlingStudio" is a very poorly thought-out name, because the word "Sling" often means a type of support equipment that may not be "safe for work". My client's staff member mentioned this device, the SlingStudio that is, and asked if it could work for their purposes. I looked into it and I must admit it seemed too good to be true… and it is, sort of. They've taken a leaf out of Blackmagic Design's book, in that it isn't a bug-free product and it certainly isn't plain-sailing to operate.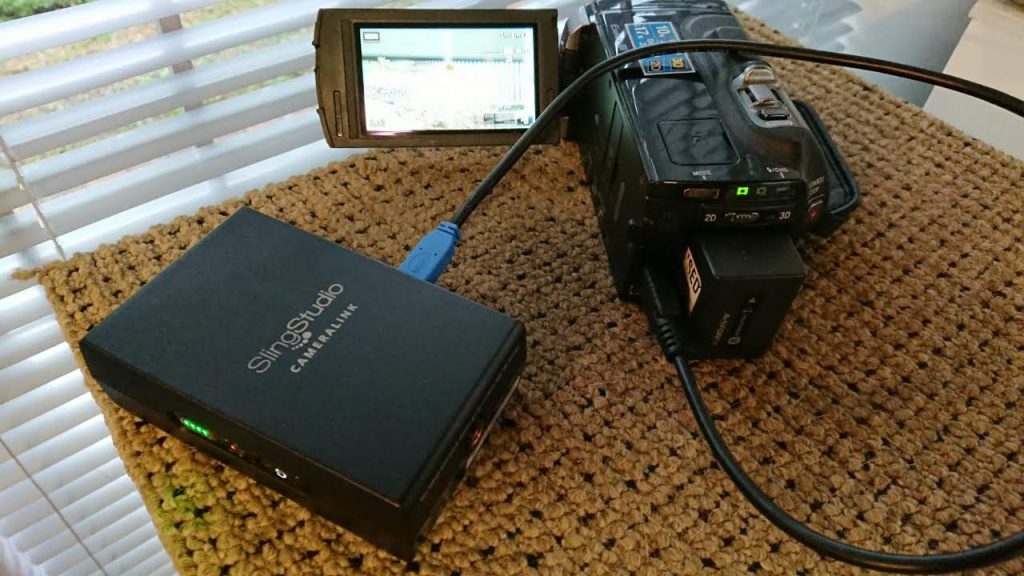 The SlingStudio is tiny compared to the setup we normally use. The switcher and video encoder/streaming module are contained in one device the size of a fancy wifi router – and ironically the device is also a wifi router, albeit a very limited one. The system has some notable limitations, that mostly extend out of its core design:
All video sources, bar one, are wirelessly streamed to the device over 5GHz 802.11ac wifi using proprietary equipment or a smartphone application (which uses the phone's camera).
The device is 30p only. 60p is available as an option with another set of limitations.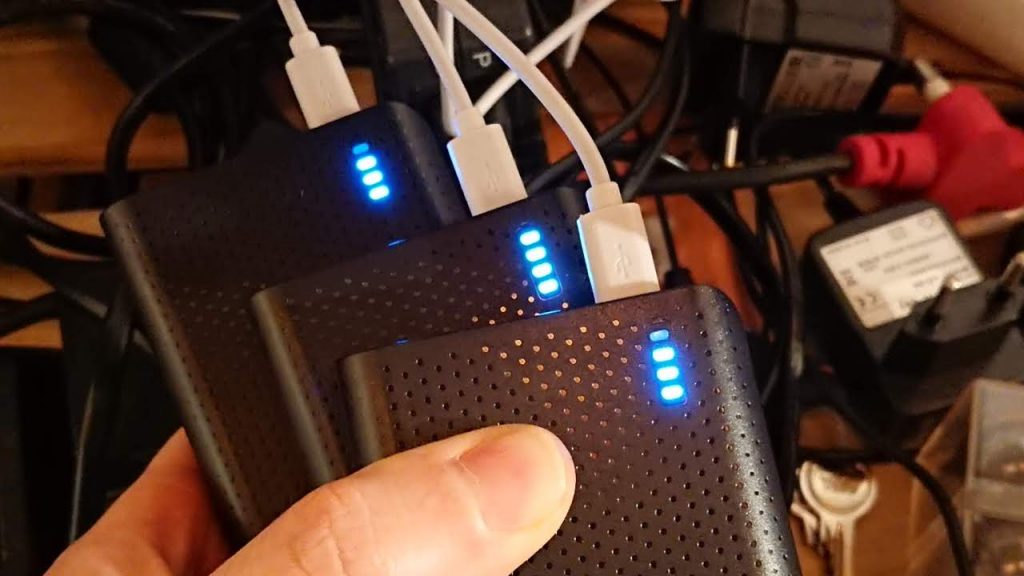 In order to use the machine in practice you need the following :
HDMI-equipped cameras all operating on NTSC.
For each camera you need a wireless transmitter.
If you're operating for longer than ~1.5 hours you'll need USB power banks for each of the transmitters.
Tripods (optional!).
The SlingStudio "hub".
The hub's battery "base" or a power supply.
An iPad.
An internet connection.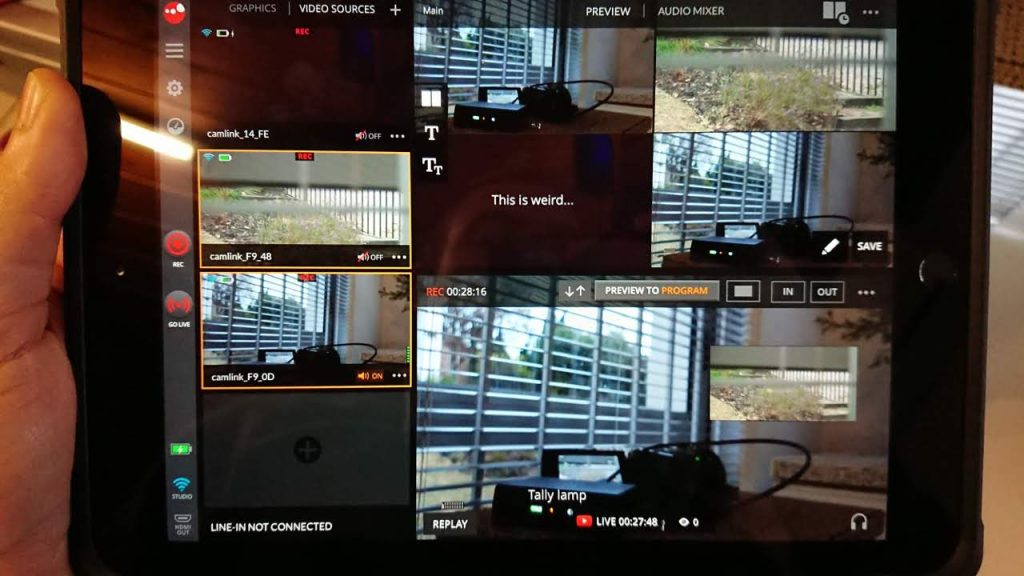 The above makes for a very compact setup compared to traditional configurations. In South Africa, almost all of our "ENG"-style cameras operate on PAL (25p/50i) frame rates, which makes them incompatible with most projectors. This means that you need a frame rate converter to connect a normal mixer and camera setup to a projector system – but the SlingStudio is an American product and it only supports NTSC (specifically 30p, 60p* and 60i). As a result of this frame rate selection all venue projectors are happy to deal with the signal the SlingStudio outputs. The SlingStudio can output video to the internet via RTMP or to Youtube and Facebook directly. It can even create events on those platforms using the iPad console interface. In parallel it can also record your output stream (program), your video sources individually, your line-in audio source and output a limited set of streams via HDMI. Really impressive stuff. All this is at an extremely attractive price point that's a fraction of the cost of a traditional setup. So what's the catch ?
There are several catches, but it is possible to work around them if you understand them in the context of your brief. Here are some limitations, some of them are South Africa-specific :
The SlingStudio is an NTSC/30p/60p/60i product and as such will only work with equipment that supports these framerates. Many cameras in South Africa are locked to PAL frame rates and are therefore incompatible with this system. This is especially true of cheaper "handycam"-type camcorders.
The company that makes the SlingStudio (DISH) are hell-bent on preventing the SlingStudio being used by non-US customers; you need an iPad with a US iTunes account to download their control application. US retailers will not ship the SlingStudio to South Africa (or anywhere outside of the US and Canada). Warranty support is, naturally, unavailable.
The SlingStudio -only- works with a Macbook or an iPad, no Android folks.
The SlingStudio uses 802.11ac wifi on 5GHz to transport camera video streams and as a result you are subject to all of the complexities that come with that, including interference and general frequency congestion (which can be erratic and severe).
Full HD video at 30 fps is roughly 1.5 Gbits/second, but the SlingStudio transmits video data over wifi at anywhere between 2mbit/sec and 10 mbit/sec. It manages to do that by heavily compressing the footage and that comes with the price tag of notable latency. This isn't an issue if you're only recording and streaming to the web but it is a problem if you're planning on going out to a projector in the location in which you're filming. The SlingStudio does have a low-latency mode which sacrifices quality for latency.
The system is cutting-edge and as a result sometimes suffers a software glitch here and there. You have to keep your technical wits about you to navigate these issues.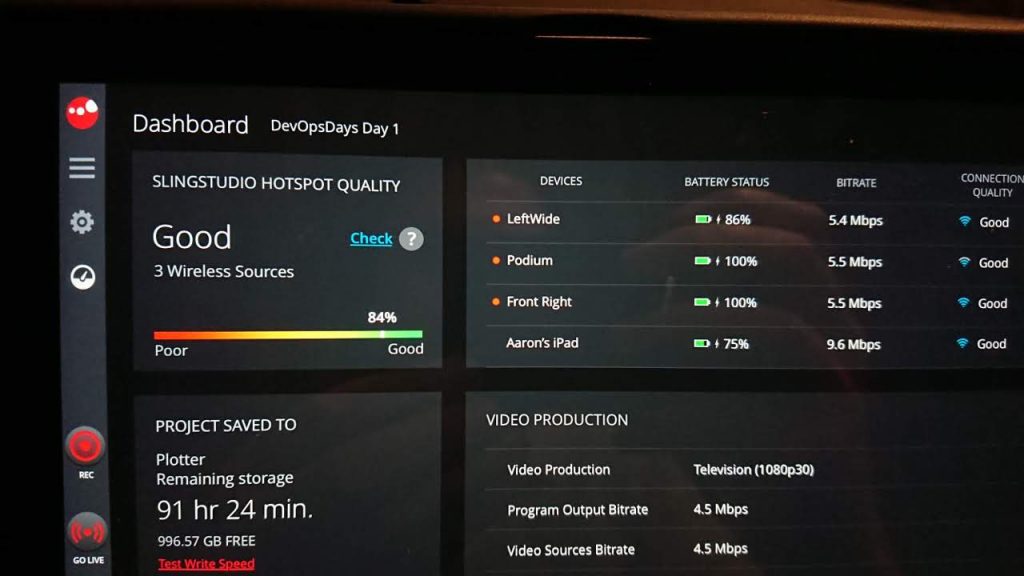 In practice the system has been pretty amazing so far. I performed extensive testing (in excess of several days of streaming) before actually using the device on a real shoot. In a real-world environment the system unfortunately has failed once so far, but after some investigation I came to the conclusion that the fault was caused by a ground-loop between an HDMI input and the machine's line-in audio input (the ground-loop was created by an audio desk's dodgy power supply). The solution was to put as much of the system on battery as possible and air-gap everything else (we moved the audio onto a wirelessly-connected camera). This resolved further issues. The lesson here is don't "electrically" trust the voltages of third-party equipment.
So, if you find that your SlingStudio's wifi occasionally abruptly disappears but the device continues operating normally otherwise, you're probably experiencing a ground-loop related issue. Galvanically isolate the crap out of everything.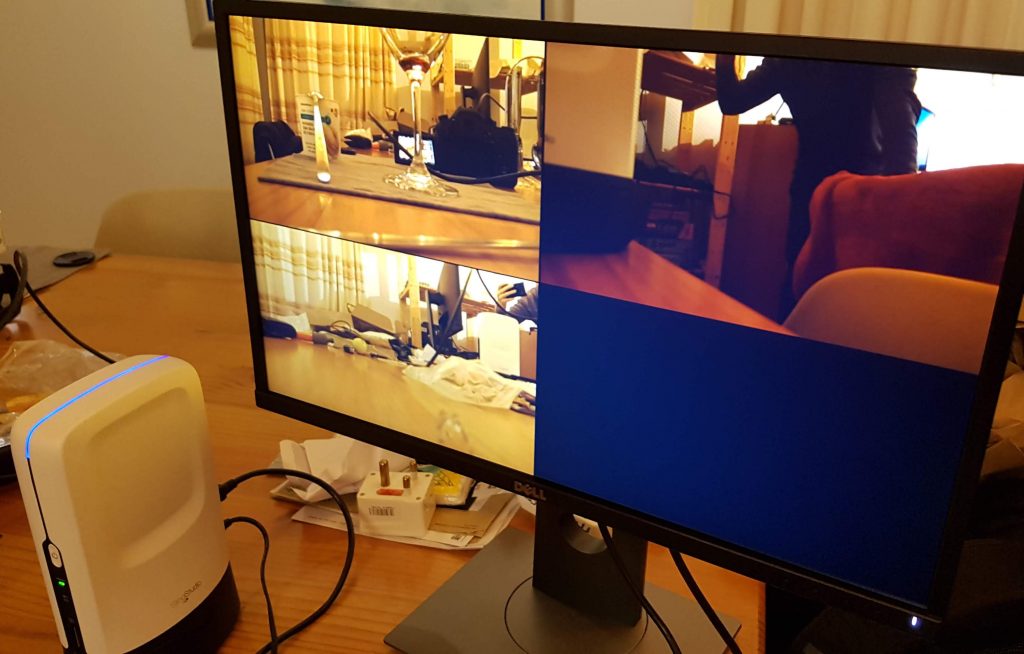 The SlingStudio can send a "quad view" output, program output or HDMI pass-through to the HDMI output. Switching between these modes is seemless, so it's possible to use it as a rudimentary auxiliary output.

For all the SlingStudio's limitations, issues and reliability concerns the feature that really stands out is the edit – it's possible to import SlingStudio recorded projects/footage into Adobe Premiere Pro and Apple Final Cut Pro. The resulting timeline includes all of your cuts and transitions. It's an absolute treat and makes fixing things easy. This is the biggest sell for the SlingStudio for me against other competing solutions.
All-in-all the SlingStudio is an amazing piece of equipment at an almost unbelievable price-point ($1000 without the transmitters and iPad) but it does have very specific limitations and can be finicky. A traditional system is a lot more effort to set up but it is much more reliable and provides lower-latency and better quality feeds.
Extra:
It appears that the SlingStudio runs Linux; the company publishes open source licences for the system (but not the source) and the licences mention both Linux and SSH, amongst other things. I've also noticed that drives formatted in Debian that are unlabelled get assigned "sda" as a drive name on the SlingStudio… which seems familiar. If only someone would open their hub up and take some photos. I'm tempted…
Update
A few months, a few more live streaming jobs and a website update later and the SlingStudio is performing well. After adopting a policy of galvanically isolating the hub (running from batteries, not using the audio input on the hub, not using the HDMI input/output on the hub, etc.) the system has performed admirably and hasn't crashed/rebooted/failed once, despite being used on several high profile shoots, often with 5 video sources, high bitrates and lots of graphics.